The Point Theater's programs are about so much more than musical theater! We are dedicated to developing character in children and adults one stage at a time.

We are a 501(c)(3) non-profit organization, grateful able to serve our community by providing quality, affordable educational programs, and productions. However, ticket sales and class tuition are not sufficient to cover the cost of delivering top-notch programming.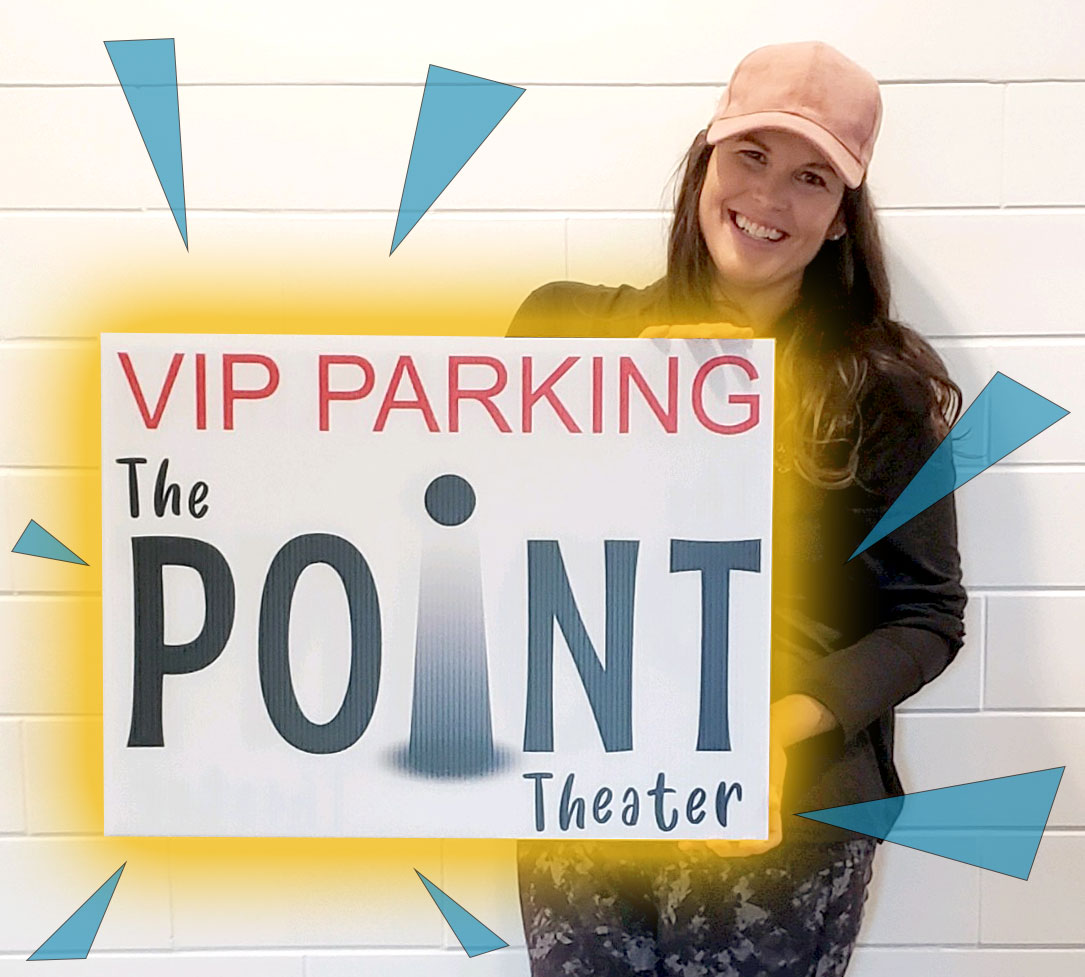 SUPER SPECIAL PARKING SPACE AUCTION
The Point Theater is auctioning TWO FRONT ROW PARKING SPACES for this weekend's performances of Into the Woods Jr.
The spaces will be marked with a special Point Theater sign and will be yours for all four weekend shows!


Bidding starts at $100.
Please email jessalyn@thepointtheater.org with bids.
Bids will close at 5 p.m. on Thursday, October 5.
The two winning bids will be announced in Thursdays email to parents.


A gift to The Point Theater is an investment in an established, family-oriented organization that helps provide young people a safe, wholesome environment and skills to make better life choices so that they become positive, contributing members of their community. The Point also allows young people to explore the arts in an atmosphere that nurtures their inner creativity while developing their character.

The Point Theater is their "place." Their home away from home. Their permission to be exactly who they are.


Become a Point Theater Sponsor, and help make a difference in the lives of our young performers!

FAN LEVEL ($1-$49)


PATRON LEVEL ($50-$249)

Our undying gratitude
Listing in our show program

CREW LEVEL ($250-$499)

Our undying gratitude
Listing in our show program
Complimentary decal
Backstage tour for four to a show of your choice
CAST LEVEL ($500-$999)
All benefits above, plus:

Two complimentary tickets to a performance of your choice *
Two complimentary tickets to the final dress rehearsal to a show of your choice

SUPPORTING ROLE LEVEL ($1000-$2499)

All benefits above, plus:
Four complimentary tickets to a performance of your choice *
Pre-order all tickets prior to general public sales
LEADING ROLE LEVEL ($2500-$4999)
All benefits above, plus:

Ten tickets donated to a children's charity of your choice *
Advance registration to camps and classes

CELEBRITY LEVEL ($5000+)
All benefits above, plus:

Dinner with the Executive Director, Managing Director, and Board President
$10 vouchers for concessions to any performance you attend *
Listing in all publications
* Use of these benefits may decrease the tax-deductible value of your charitable gift

2022 ANNUAL DONORS & SPONSORS
John & Martha Odle Family Foundation

Anonymous
Laura Baltz
Alison Becker
Bryan & Elaine Brenner

The Buoscio Family
The Button/Tobis Family
The Howard Family
Sara Kosnoff-Powell
Matt Murray
Heather Purvis
The Sermersheim & Sreniawski Families
Jamie Smith
Paul Sweeney
Michelle & John Zant
Amy Barnes
Nerissa Bauer
Kasee Carlstedt
Lynne Craft
Tricia Daugherty
Heather Landis
Kristen Miles

Mike Moeller
Erin Murphy Schlick
Melanie Perhacs

Jamie Shafer
Charles & Nancy Webster
Jamalyn Peigh Williamson
Lisa Bangert
Florence Bracht

David Fine
and Cassandra Pixey
Melissa Fishel
Kelly James
Lisa Mickelson
Patricia Powers

Amanda Ross
Elizabeth Schuerman
Dan Todd
Rachael Trieu
Stephanie Zircher
Abbi Achterberg
Charity Alber
Becky Baker

Alison Birge
Julie Bowman

Tim & Paige Button
Moira Carlstedt
Reba Ericksen
Amanda Fuhrer
Tom & Connie Hackett
Sherry Jennings

Heather Judy
Liz Keiper
Lauren Keslin

Nicki McNally
Laura Mobley
Kimberly Noonan

Rachel Pettee
Becky Quirey

Liz Schueler
Abby Scott
Jennifer Thomas

Liz Todd
Stephanie Truscott
Kara VandenBoom
Stephanie Weiss

Kaleena White
Karen Worswick
Lindsay Worswick

Amy Adams
Lindsey Allen
Jeffrey Altenburg
Lee Altenburg
Angela Brenneman
Kimberly Coveney
Jamie Deckard
Kim DeWaal
Kelly Diasio
Courtney Doran
Kim Drake
Melissa Duncan

Leah Eckstein
Julie Eddleman
Anna Edwards
Stephanie Fairfield
Devana Federici
Sara Forgrave
Katie Giesting

Dawn Gilbert
Jessica Gilpatrick

Stephanie Goggin
Brian Graefnitz

Linda Herr
Christine Hodgin
Erica Jenkins
Allison Jonas
Jen Joseforsky
Chrissy Koenig
Kaprice Kraemer
Alicia LeMagdeleine

Susan Leininger
Heather Lusk

Kelly McNamee
Melissa Mercik

Rustie Mills
Amanda Minnes
Elizabeth Moore
Amy Morton

Douglas Mueller
Dan Muller
Eric Mussler

Amy Olson
Kerrie Patton
Chris Paulsen
Wendy Pottratz

Amanda Powlen
Shawn Price

Bonita Ramirez
Ann Roberts
Lawrence Roth
Sarah Sansone

Ariane Schafer
Jessie Showalter
Jennifer Smitherman

Hani Soueidan
Bob & Paula Turyan

Kim Wallgren

MANY THANKS TO OUR MONTHLY DONORS
Anonymous
Lisa Bangert
Bryan & Elaine Brenner
Lynne Craft
Tricia Daugherty
David Fine and
Cassandra Pixey
Melissa Fishel
The Howard Family
Kelly James
Sara Kosnoff-Powell
Lisa Mickelson
Matt Murray
Patricia Powers
Jamie Shafer
Rachael Trieu
Kaleena White
Jamalyn Peigh Williamson
Michelle & John Zant

2023 GIVING TUESDAY HEROES

Charity Alber
Lindsay Allen
Abbi Achtererg
Lee Altenburg
Becky Baker
Lisa Bangert
Nerissa Bauer
Julie Bowman
Bryan & Elaine Brenner
The Buoscio Family
Tim & Page Button
Kasee Carlstedt
Lynne Craft
Tricia Daugherty
The Drake Family

Melissa Duncan
Reba Erickson
Devana Federici
Amanda Fuhrer
Kendra Geis
Katie Giesting
Brian Graefnitz
Tom & Connie Hackett
The Howard Family
Kelly James
Sherry Jennings
Heather Judy
Liz Keiper
Lauren Keslin
Alicia LaMagdeleine
Heather Lusk
Nick McNally
Melissa Mercik
Lisa Mickelson
Kristen Miles
Laura Mobley
Mike Moeller
Amy Morton
Kimberly Noonan
Chris Paulsen
Melanie Perhacs
Shawn Price
Wendy Pottratz
Becky Quirey
Liz Schueler
Elizabeth Schuerman
Abby Scott
Erin Murphy Schlick
Jennifer Smitherman
Paul Sweeney
Jennifer Thomas
Liz Todd
Stephanie Truscott
Bob & Paula Turyan
Kara VandenBoom
Kim Wallgren
Stephanie Weiss
Jamalyn Peigh Williamson
Karen Worswick
Lindsay Worswick
Stephanie Zircher

MAKE ALL OF OUR DREAMS COME TRUE